Winnie Forsyth
The challenge of an outdoor red carpet is that you can plan just about everything but the weather. The most you can really do is try to work with it as best as possible.
At the British Academy Film Awards in 2013, Winnie Forsyth sported this yellow gown and got some really stunning photos. What we don't see as much of is the train for the gown. That's because the wind kept picking it up so the star simply removed it for an easier but equally elegant evening.
Hayden Panettiere
Hayden Panettiere is no stranger to red carpet shows. Still, even a professional can take the wrong step here and there. Hayden Panettiere was attending the 2014 Met Gala in a ballgown fit for a Disney movie.
The length was a bit of a struggle, though. While she mostly managed it flawlessly, the stairs on the red carpet got the better of her. Luckily, the actress took it in stride and managed to get a few great photos on those same stairs.
Jenny McCarthy
Jenny McCarthy looked stunning at the 1997 Oscars but said something seemed off. She told US Weekly that there was a reason her dress felt too tight.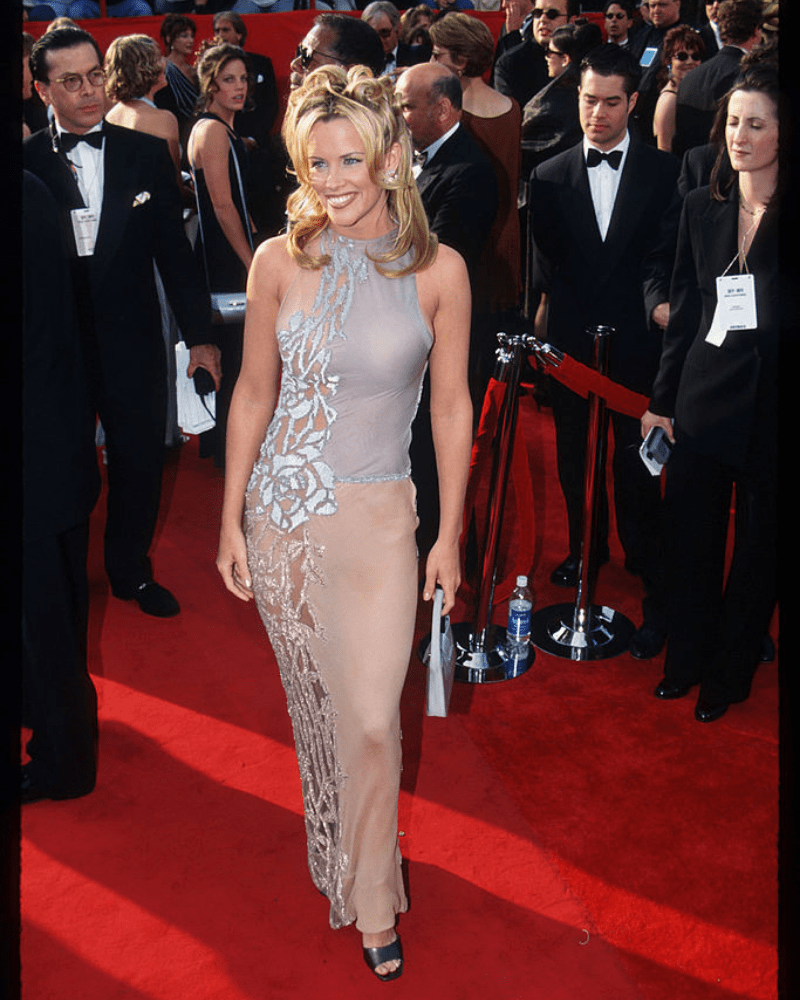 She shared in the interview that she "walked down the red carpet, went to the Vanity Fair party, felt like a million dollars but I did wonder why it was so tight in the chest all night." Her questions were answered when she ran into Valentino himself who informed her that she was wearing the dress backward.
Ashley Graham
Anyone who has ever put on a pair of stilettos can tell you that they aren't easy to walk in. Still, some people manage to make it look effortless!
With that difficulty in mind, it's no surprise that stars stumble sometimes. As a supermodel, Graham is no stranger to making difficult outfits look effortless. Yet, everyone still had a moment of concern when the star got a stiletto caught on her outfit. The good news is that she was fine and even recovered right away!
Sofia Vergara
Sofia Vergara is no newbie on the red carpet. That's why you could have missed theModern Family star's fashion crisis in 2012 at the Emmys.
Vergara was there to accept an award for Best Comedy Series along with the rest of the team involved in Modern Family. Yet, a backstage sneak peek showed us that sometimes in Hollywood, you have to make last-minute adjustments to glamourous looks to avoid problems like them splitting down the seams.
Cameron Diaz
When Charlie's Angels premiered in 2003, Drew Barrymore, Lucy Liu, and Cameron Diaz did a lot to promote the film. Of course, this included a few red carpet appearances. At the 2003 premiere of the movie, the actresses all showed up in coordinating white outfits.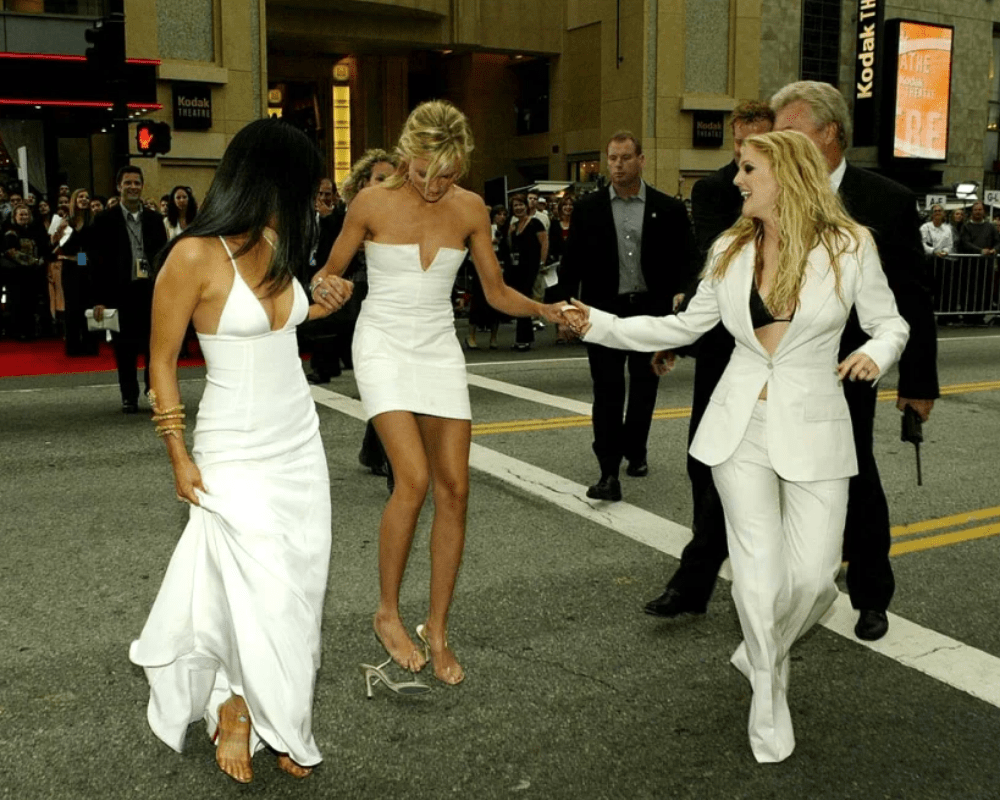 Luckily, Barrymore and Liu were right there as Diaz lost a shoe crossing the street to meet a few fans. We suppose a broken shoe strap is the least that Charlie's angels have had to deal with!
Nicki Minaj
Nicki Minaj has shown off quite a few eye-catching outfits over the years. She's even managed to adapt those outfits on the fly when things go wrong. There are surely plenty of fashion crises that we never even noticed over the years.
When the rapper attended the MTV Music Video Awards back in 2014, her gown unexpectedly flew open! What would end in disaster for most people, though, the star simply caught her dress before it was too late and played the whole thing off like it was nothing.
Lili Reinhart
Speaking of fearful fashion moments that we didn't see, you would have never have known that Lili Reinhart needed some last-minute alterations at the 2017 Teen Choice Awards.
All in all, the actress looked great for the event and it was only because she shared the blue carpet mishap on Twitter. She shared that she was thrilled to be there even after "the waist-band of my dress was held together by two strings and one of them completely ripped as I was being zipped up."
Lady Gaga
If there's one person who isn't afraid to deal with an impractical outfit, it's Lady Gaga. She wasn't going to disappoint at the 2011 CFDA Fashion Awards. The singer was more than attending too — she was accepting a fashion icon award while she was there!
For all of the complicated parts of this outfit, Gaga nailed the train and impossibly high heels, only hitting a momentary drag when her top fell down. Still, the icon just pulled it up and kept going.
Zendaya
We've already briefly touched on the challenges of wearing staggeringly high heels to walk across the red carpet. They're hard to keep your balance in when you aren't posing for photos!
At the 2016 Radio Disney Music Awards, Zendaya rocked a pair of shockingly high yellow heels. Her stylist once shared with Footwear News, "Rumor has it that he said he did not design the shows to be worn outside. Literally eight minutes into the walk to the carpet, I was holding her up because her legs were buckling."
Behati Prinsloo
There are certain jobs that would make you ready to handle fashion mishaps. We imagine a Victoria's Secret Angel would have to know how to adapt to a fashion mishap. That's what happened to Behati Prinsloo when she and her husband Adam Levine walked the carpet at the 2015 Vanity Fair Oscar Party.
Her dress seemed like a no-fail choice. Unfortunately, she noticed it slipping down throughout the night but didn't miss a beat in avoiding disaster — thanks to her trusty hubby. As you can see, the two shrugged off the mishap with a couple of laughs.
Ben Affleck
Women's fashion is highly critiqued on the red carpet but that doesn't mean that they're the only ones who make a fashion mistake here and there.
Ben Affleck experienced a red carpet disaster of his own, although it could have been much worse. While his outfit for the Suicide Squad premiere in 2016, his slate suit was a safe choice. He just might have wanted to take a few more minutes on the buttons before stepping out.
Micaela Schäefer
Fashion is an art form and it seems that it knows no bounds. You might even notice that some designers try to add new looks using traditional textiles.
Micaela Schäefer made waves with a unique look at the Men in Black 3 premiere in Germany. The bottom half of the gown was made up entirely of the film from VHS tapes. As a result, the wind frequently swept the skirt away but Schäefer seemed to accept the wind as part of the look and went with it.
Katherine Heigl
Katherine Heigl had a big night at the ShoWest Awards in 2010. She was there to accept the Female Star of the Year Award, after all!
She even had the perfect gown for the event — until the shoulder strap broke, that is. Luckily, the star managed to catch the issue with help from presenter Billy Bush. This allowed her to continue her speech and accept the award without letting the surprise trouble interrupt her for too long.
Mario Lopez
If you find yourself in an embarrassing situation, sometimes you might find laughing at the situation helps. Mario Lopez did, at least.
On the way to one red carpet event, he ran into some last-minute issues with his suit. They were pretty hard to ignore too! So, the actor decided to own the situation, sharing the debacle on Twitter even adding the tags #PantsTooTight and #Undies to poke fun at the unfortunate situation.
Rihanna
Rihanna was there to stun everyone at the Ocean's 8 premiere. For the event, the musician and actress donned a Poiret dress accented with eye-catching metallic gold that draped down one shoulder.
Unfortunately, it was this sliding sleeve that caused the star so much trouble. Nothing disastrous happened but the sleeve keep trying to continue its descent, leaving her pulling it back up between photos. The good news is that she successfully avoided disaster and got a few good snapshots too!
Katy Perry
There are times that you just have to go with what happens to an outfit because there's nothing you can do. That's where Katy Perry found herself at the 2017 Academy Awards.
The dress she wore, designed by Jean Paul Gaultier, took some vintage inspiration. It made it through the red carpet but at the Vanity Fair afterparty, the gown tore at the seam on the drop-waist. Perry managed to stay covered but the designer dress was done for.
Dakota Johnson
To her credit, Dakota Johnson did safely make it through the red carpet at the People's Choice Awards in 2016. The wardrobe malfunction in question happened on stage.
Ironically, the actress was accepting an award as Favorite Dramatic Movie Actress for her role in 50 Shades of Grey when her top started to come undone. Luckily, actress Leslie Mann snagged it just in time. Johnson quickly cracked a joke about what happened, saying that if the top had come off, it wasn't anything anybody hadn't seen before.
Bella Hadid
Bella and Gigi Hadid are a pair of supermodel sisters who have reached quite a bit of fame over the years. So, neither is a stranger to handling a little fashion mishap.
For Bella Hadid, the 2016 Cannes Film Festival came with some challenges. She went for a strikingly classic look with a high-slit red gown and a pair of heels. While the supermodel pulled it off, the train was deceptively difficult to handle.
Lily-Rose Depp
Lily-Rose Depp is a talented actress in her own right. At the event we're talking about here, she was celebrating the premiere of the movie The King.
While at the premiere, the actress opted for a gown from Chanel's 2020 collection. It featured a halter top complete with a ruffled texture. One particularly strong gust of wind tried to blow her top out of place but the actress just caught it with a laugh and readjusted it for the next picture.
Cardi B
Cardi B has gotten a lot of attention for her fashion sense over the years. In 2018, she attended a performance in Calibash where she performed "La Modelo".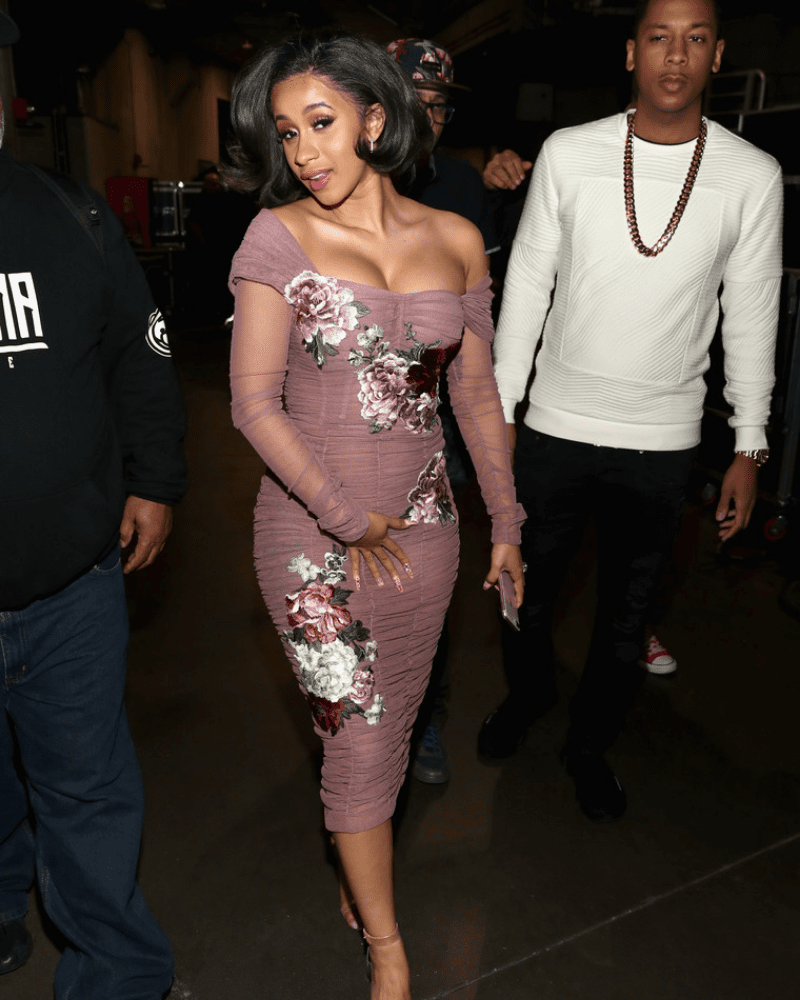 The dress was gorgeous and classic design but it came with a major drawback. Once the rapper was on the red carpet and under the stage lights, it became clear that the dress was transparent. She later wrote on Instagram, "Last night was LIT!!! Even tho I realize my dress was see-through and I realized at the last minute."
Kim Kardashian
Kim Kardashian is well-known for her fashion sense, so it's no surprise she didn't pull any punches at the opening for The Cher Show in a vintage Versace gown.
The gown featured a halter top to keep the back open. The only problem was the star made a bit of a mistake during the red carpet when she over-adjusted her dress to expose part of her chest. Kardashian didn't hesitate to laugh it off, even sharing it on Instagram censored with a GIF of Cher.
Emily Ratajkowski
A train on a gown can add a lot to the design. Yet, the longer your dress is, the harder it likely is to make sure you're aware of it all night long.
Emily Ratajkowski is no stranger to difficult outfits as a supermodel. So, she probably handled the challenge of her gold gown at the 2017 Golden Globes more than most people would. Still, it was clear that the train was getting in the way in some of the photos.
Chloë Grace Moretz
Chloë Grace Moretz was making an appearance on Watch What Happens Live when she ran into a bit of a wardrobe failure. Luckily, you couldn't spot it unless she turned around. The velvet top that the star rocked was trendy but it didn't quite have the stretch she needed it seemed.
It looks like one overextension tore the seam and split the back of the sleeve. To be fair, if the outfit had to tear, the back shoulder — which was only visible when she was signing autographs — isn't all that bad.
Anne Hathaway
Like many, you could have easily missed the wardrobe malfunction that Anne Hathaway experienced at the Met Gala. She eventually revealed the story herself on The Late Show With Stephen Colbert.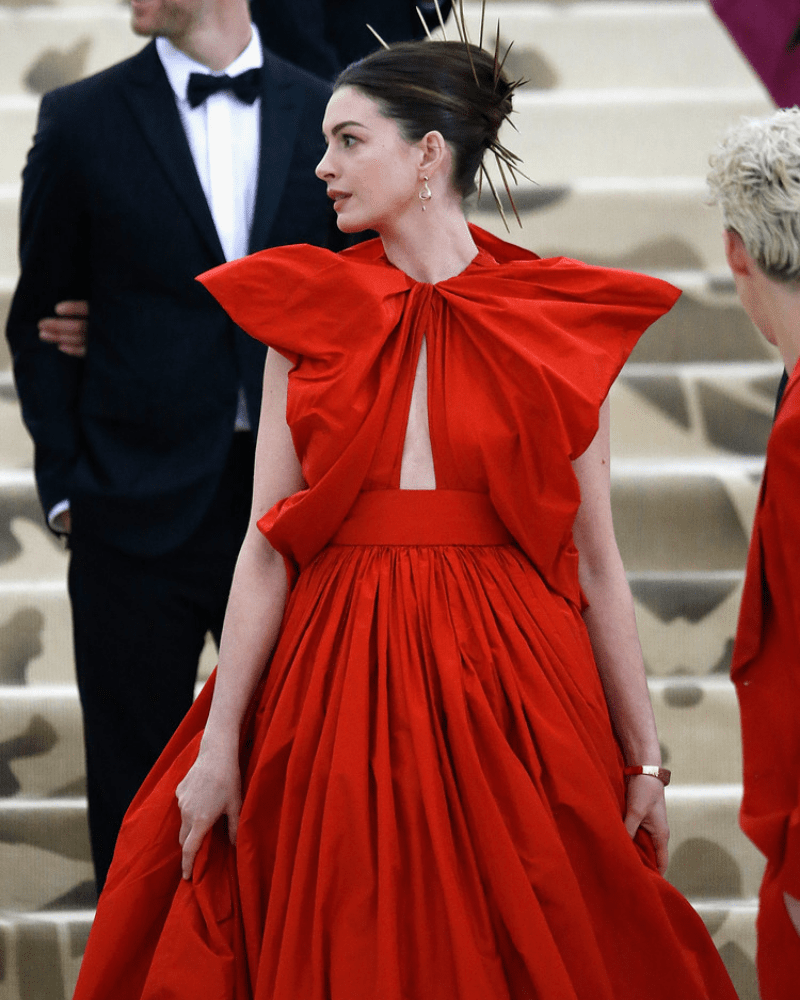 "One year, I was going as the guest of Calvin Klein and Francisco Costa. I was about a block away from the Met," the actress shared, "And I sneezed, and my dress split. Like just straight-up split open." They stopped to find a seamstress to help and, as a result, Hathaway was second-to-last to show up.
Hailee Steinfeld
Some fashion mishaps on the red carpet really steal everyone's attention. Other ones happen to fly under the radar and you wouldn't know until much later on.
At the 2017 Oscars, Hailee Steinfeld fell into the latter category. The star looked stunning in a flowery gown that went all the way down the red carpet to pool at her feet. If you have a good eye, though, you can see a slight tear the star managed to hide almost completely.
Minnie Driver
As a versatile performer, you have to be able to think on your feet quickly. It helps during red carpet wardrobe malfunctions as well. In 1998, Minnie Driver was attending the Oscars and chose a red gown that seemed appropriate, being that she would be walking the red carpet.
Before long, the dress started falling off but Driver wasn't deterred. She simply wrapped the shawl she was carrying around her shoulders, letting the faux fur cover her in a way that was definitely still fashionable.
Laura Govan
Laura Govan went for a fun look on the red carpet when she sported this patterned party dress. She ran into many of the same problems that Michelle Rodriguez did in the strapless dress.
The star quickly realized that her party dress wasn't staying put. That meant that she had to spend a good portion of her time on the red carpet holding the dress in place or pulling it up. The dress ended up looking great, even if it wasn't the most comfortable choice.
Janet Jackson
We'd be remiss to talk about fashion disasters without talking about the unfair situation that Janet Jackson faced at Super Bowl XXXVIII. The singer was billed for the halftime show with Justin Timberlake.
During the performance, Timberlake pulled the pocket of fabric over the right side of Jackson's top, causing the wardrobe malfunction. She later shared that the move was accidental, as Timberlake was only supposed to remove her bustier and leave her bra in place for coverage.
Ariel Winter
Ariel Winter is another member of the Modern Family cast who isn't a stranger to awards shows. In 2017, she stole the show on the red carpet at the Emmy's.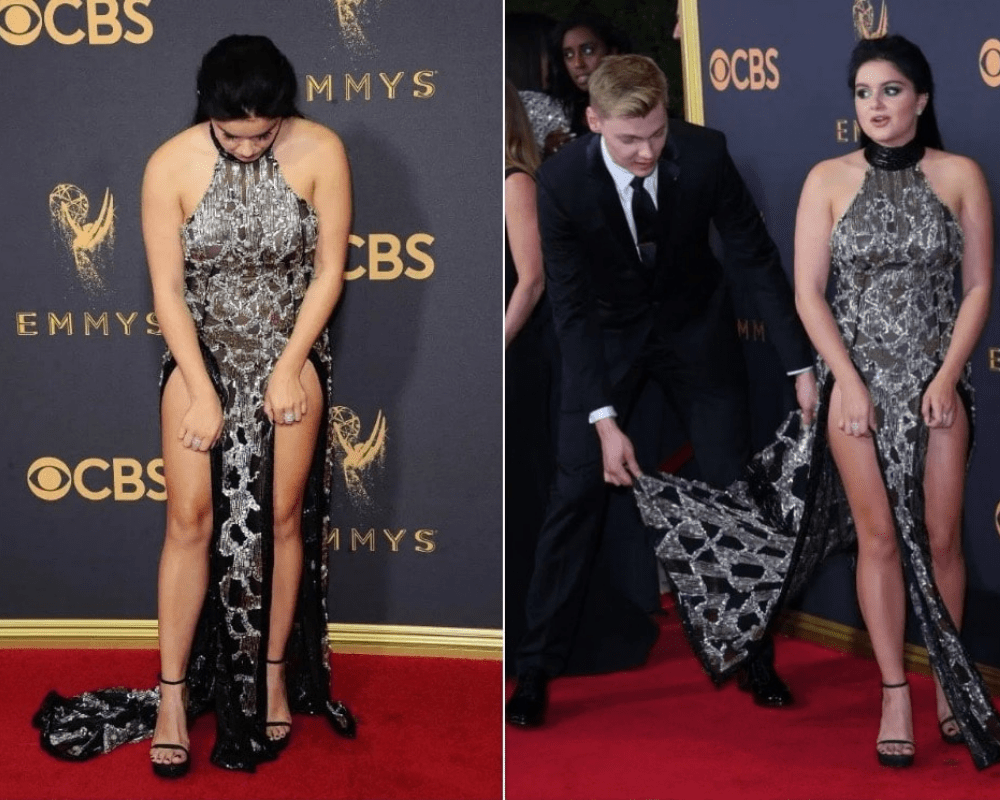 The gown in question was a sparkling pattern with a pair of high slits to add to the design. The star did manage to avoid anything too disastrous but it wasn't without effort. It looks like managing the dress was a bit more difficult than anyone originally expected.
Margot Robbie
Margot Robbie has had a meteoric rise to fame with a number of amazing roles over the years. For the event in question, she was celebrating the release of I, Tonya.
Playing the titular Tonya Harding, Margot Robbie was there as the star at the premiere in Australia. The actress chose a simple silk gown in pale pink, livening it up with a deep neckline. It was this neckline that left the star adjusting her dress all night.
Beyoncé
Beyoncé has a way of making everything she does look effortless. In reality, even something as simple as walking across the red carpet can be surprisingly difficult. The tight mermaid gown definitely turned heads at the 2011 Met Gala.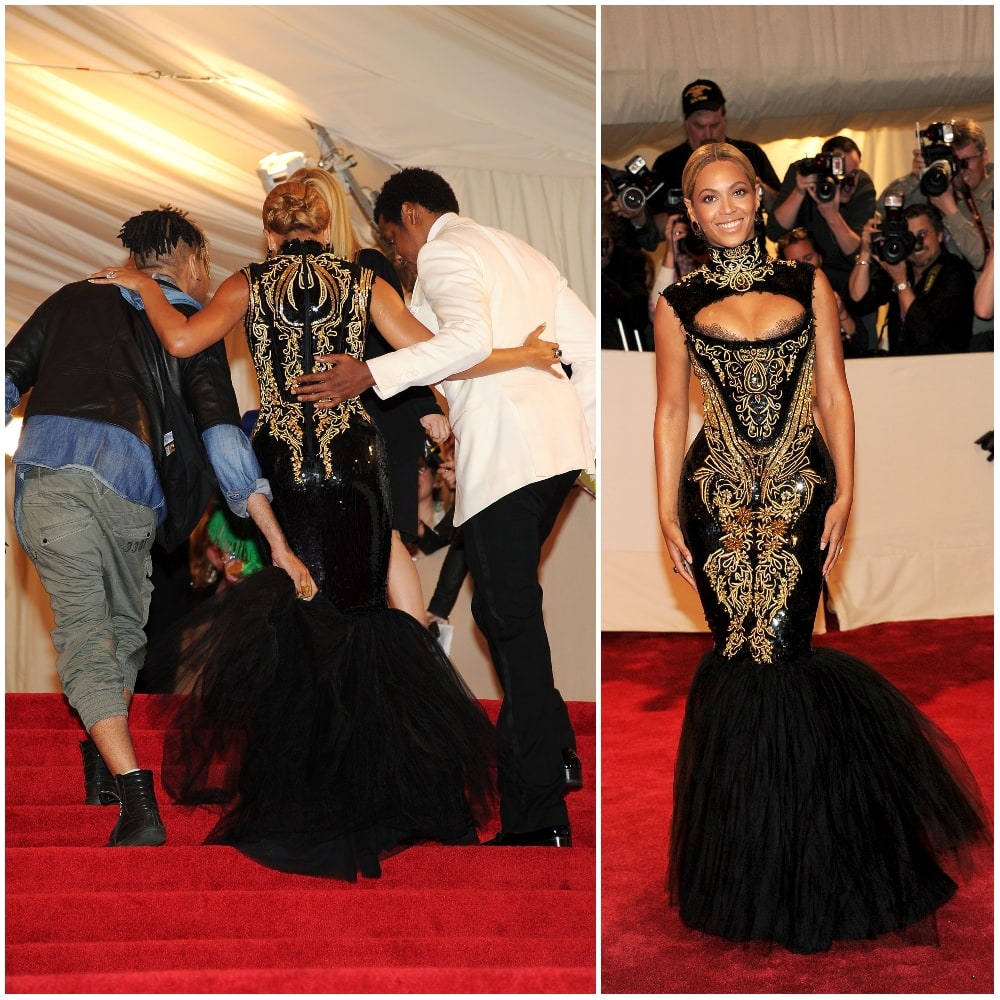 However, mobility was the price to pay for the look. Luckily, Beyonce had her husband and fellow celebrity Jay-Z close at hand to help her across the red carpet when it was time to move between photos.
Kaitlyn Bristowe
Fans didn't have to wonder what happened when Kaitlyn Bristowe had to think fast on the red carpet. Throughout the 2018 Emmys, she kept fans updated on the debacle.
For the event, the star donned a black gown. It would have all been fine had the dress not split up the back at the zipper. She shared that with the tear, it was impossible to stand and stay decent but that a friendly couple was kind enough to lend her a jacket.
Chrissy Teigen
Chrissy Teigan made a brand for herself around a relatable persona. So, it's no surprise that she shared her unfortunate circumstance with fans after a red carpet wardrobe malfunction.
For one event, Teigen chose a white gown with a slit up the front. As luck would have it, though, that slit got torn about five inches higher throughout the night. Teigen shared a snap of her hiding the fashion malfunction under her bag to try and mitigate the situation.
Lady Victoria Hervey
Lady Victoria Hervey is a celebrity of many titles. Between her socialite status — as well as her acting and modeling careers — she has plenty of red carpet experience under her belt.
At the Cannes Film Festival in 2015, she was presented with a particular challenge. Her low-cut and high-slit gown had been holding up well as she strutted and posed across the red carpet. Unfortunately, a stray gust of wind tried to blow it all apart. She managed to handle it with only a bit of a stumble.
Emma Stone
We've seen here that trains on dresses are gorgeous but sometimes more difficult than you might expect. Sometimes, that isn't just for the star in the dress either.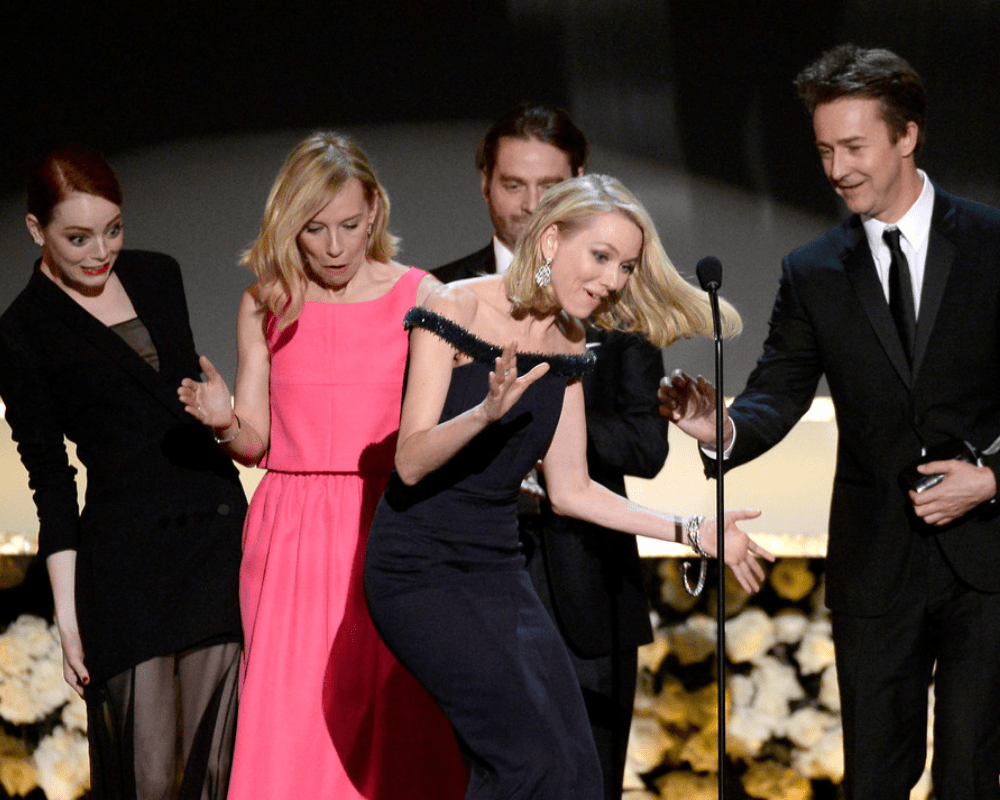 Emma Stone had no trouble with her train on the red carpet in her Dior suit and dress combination. Everything was fine until Stone and the rest of the cast of Birdman jumped onstage to accept an award for Best Ensemble. Naomi Watts tripped over Stone's train but Edward Norton was there to catch her before she fell.
Elisabetta Canalis
No one would have known that Elisabetta Canalis ran into a snag with her dress before the 2010 Oscars that could have spelled out disaster. As she was getting ready, the zipper on Canalis' dress broke while she was getting ready.
Rather than calling in Hollywood help, though, the situation was easily handled when Canalis' then-boyfriend, George Clooney, stepped in to sew the zipper back into place at the last minute.
Beyoncé Is Back
Well, before Bey's mermaid gown at the Met Gala, she was asked to perform at the 2005 Academy Awards. This included multiple rapid and complete costume changes.
With only minutes to get ready, the star didn't fully strap one of her heels to sing "Learn to Be Lonely" from The Phantom of the Opera. During the performance, the shoe came off entirely while she was performing but stayed hidden in the dress so the audience never noticed.
Jennifer Lawrence
Jennifer Lawrence isn't afraid to show us her more relatable side. That means she's quick to own and laugh off a red carpet mishap. That's exactly what happened at the 2011 SAG Awards. In a floor-length bright pink gown, the star was definitely capturing people's attention.
The only problem was that she also turned heads when she stepped on her dress, causing her to stumble. In true J-Law fashion, she just laughed it off and got back to posing for the paparazzi.
Another One for Jennifer Lawrence
As we said, Jennifer Lawrence isn't shaken by a relatable mistake on the red carpet. To be fair, she made it through the red carpet in a gown for her first Oscar acceptance.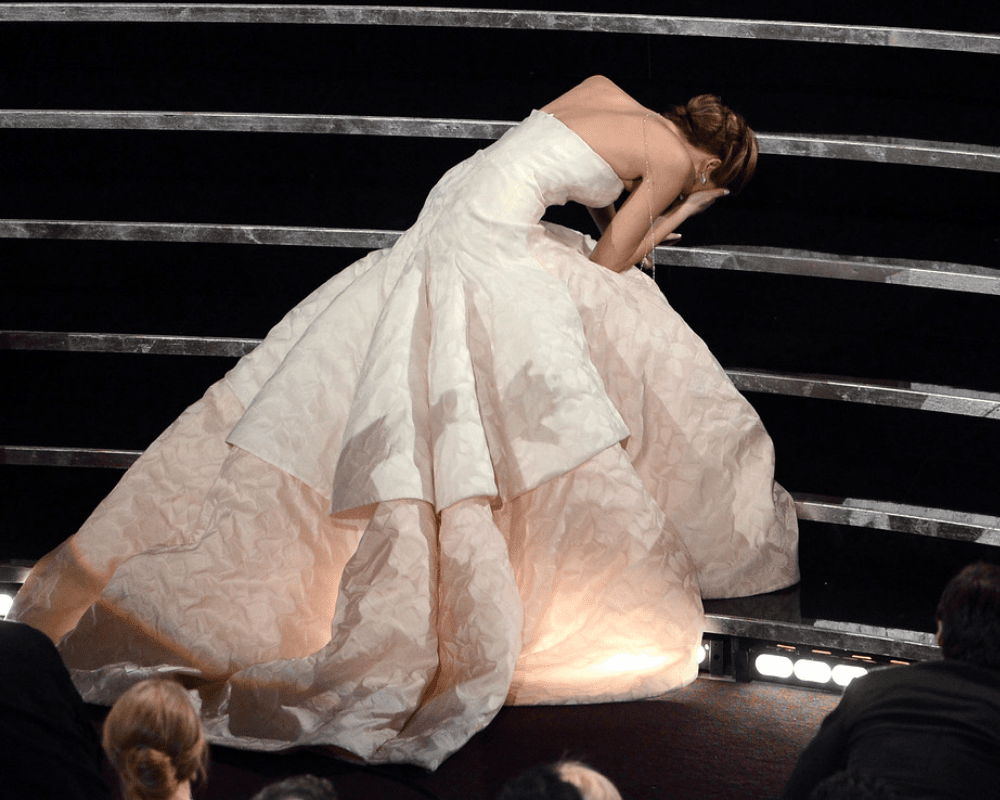 It was actually accepting the award that made things difficult. On her way up the steps, the Best Actress winner stepped on the hem of her dress, causing her to fall on the stairs. She later said, "What went through my mind when I fell down? A…a bad word…that I can't say. It starts with 'F.'"
Sarah Hyland
Sarah Hyland has been walking red carpets for quite a while. For her look at the 2017 Emmy Awards, the actress opted for a red gown with a cutout. The only problem is that when there's a cutout in a dress, you probably hope it won't endanger the security of it staying on.
Yet, it seems like Hyland was caught off-guard when the bottom part of the dress just wouldn't stay in place, revealing her Spanx. As a result, she had to keep adjusting the band — and later posted about it via Instagram to make light of the situation.
Mariah Carey
Everyone knows the story of Cinderella. In that story, losing a shoe is the way for her true love to find her after the ball. Mariah Carey had her own Cinderella moment — she just decided to swap out those glass slippers for a pair of fairly high Louboutins.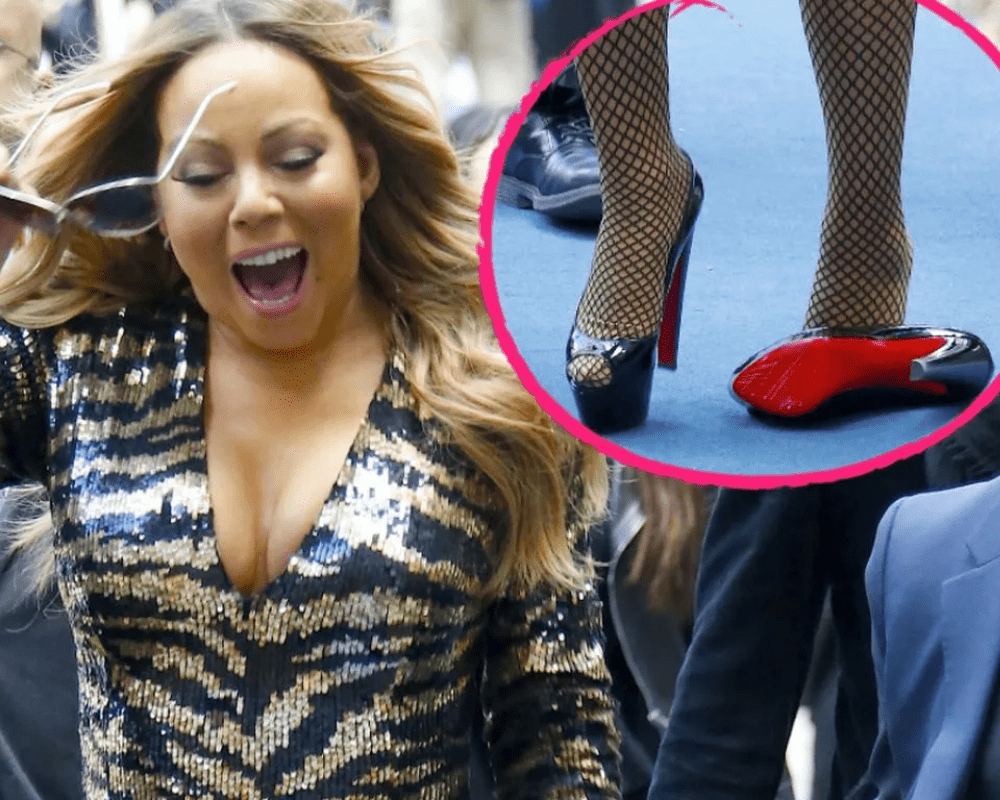 However, it seems like that extra height would make this misstep all the more intimidating but Carey is a professional and didn't let the stumble hold her back for long.
Michelle Rodriguez
Strapless dresses have a lot of appeal. Still, they aren't always easy to keep up with since they don't have the straps for support.
That was exactly the problem that Michelle Rodriguez ran into when she stepped out for the sixth The Fast and Furious film. It didn't take long to realize the problem — the dress kept sliding down! Still, Rodriquez managed to catch some great photos even if she had to hold her dress up for most of the night.
Emma Roberts
Emma Roberts has shaped up to have all of the acting talents that you'd expect from a member of this famous family. So, there are plenty of premieres that fans can spot her at.
The star was attending the premiere for The Blackcoat's Daughter when her purple dress started to deteriorate. It isn't hard to see that one sleeve is split down the side in this picture. She shared with PeopleStyle, "My sleeve almost fell off and completely exposed my body!"
Kendall Jenner
At the 2016 MTV Movie Awards, Kendall Jenner showed up in a stunning outfit. In particular, people quickly fell in love with the dramatic lace-up heels she paired with the dress.
The only problem was that those stilettos just refused to stay laced even after it took a pair of assistants to get them on at all. Between photos, her assistants had to keep redoing the ties. Gigi Hadid even gave fans a behind-the-scenes look in a Snapchat video of Jenner trying to get the sandals off at the end of the night.
40 Times Celebrities Shared a Glimpse of the Horrible DMs They Get
Social media means that people have much more access to celebrities than ever before. However, that also leaves our favorite stars open to all sorts of online abuse. Check out these horrible DMs, tweets, private messages, and snaps that celebrities have received.
"Honestly, Wow, Thank You"
Chrissy Teigen is pretty vocal on social media, and has gotten into some problems of her own. On this occasion, though, Chrissy was the victim of some nasty online messages. Underneath this picture of the star with Andy Cohen and Kelly Dodd, someone decided to leave an unsolicited critique of Chrissy's hair.
What Is Wrong With You?
This online interaction is totally typical of social media. English model and activist Munroe Bergdorf was subjected to this ridiculous string of messages. The trans star received these DMs from someone who strongly disagreed with Munroe's beliefs.
Interestingly, as soon as the star replies to this person, they back off. As we'll see throughout this list, most online trolls never expect anyone to reply. It should go without saying but this is not the ideal way to communicate over complex ideas!
"The Very, Very Worst"
During much of lockdown, English actress Kate Beckinsale shared pictures and videos with her beloved cats. The star has two feline pets — one named Clive, and one named Willow. Despite this rather wholesome content, Kate still received very nasty DMs about her furry children.
This very angry person wished that Kate and Clive drove off a cliff and died. Who would wish such a thing?! The star posted the nasty comment on her social media to mock the troll's typo.
To Someone I Don't Know
Look, we know that reality star Janelle Evans is a controversial character. We watched her deal with teen pregnancy and motherhood, along with a host of other issues. But, despite what people may think of Janelle, she definitely doesn't deserve to be harassed or bullied.
The star shared this screenshot of some of the abuse she regularly receives. This particular message insulted her, her mom, her kids, and her partner. Janelle rightly asked her followers, "What makes you think this is ok?"
#YouCan'tStopTheGirl
On several occasions, singer-songwriter Bebe Rexha has been targeted by online trolls. The "Baby, I'm Jealous" singer isn't afraid to respond though. As these messages show, Bebe was super excited to perform on The Ellen DeGeneres Show. However, someone had to be there to burst her bubble.
Bebe Rexha has also talked about being taken down from within her own industry. The star shared online that male music executives tried to make her take down certain Instagram posts. Leave our girl alone!
"You Are No Role Model"
Unfortunately, lots of nasty online abuse is full of racism, sexism and homophobia. These messages are really hateful, and express all sorts of offensive views. This racist tirade was sent to model and TV presenter Ashley Graham in 2019. The star shared it on her Instagram stories, saying "racism isn't clickbait, it's real and evil."
She continued, "I see what my husband has to go through every day […] Read books; have conversations. Educate yourself." We couldn't have said it better Ashley!
"Don't Be That Person"
It's in 24 countries across the world, but the British Love Island is the OG and the best. Over the years, mental health has been a real issue with reality stars. They rise to fame super quickly and then have to deal with tons of exposure. And of course, social media makes all of that more intense.
Demi Jones starred on the show in 2020 and was diagnosed with thyroid cancer the following year. Incredibly, vicious online trolls made fun of her for it. Now, she's cancer-free.
I'm Not the Miserable One
And here's another reality star that had to learn to adjust to fame quickly! Chrishell Stause is best known for selling hot property at the Oppenheim group. Well, that and her dating life. The star went through an extremely public divorce from Justin Hartley and then started dating her boss and co-star, Jason Oppenheim. The drama!
Because of this, some viewers felt they knew Chrishell's life more than she did. This nasty DM alleges that the star "can't accomplish anything without a man."
You're Going to Regret It
Compared to some of the nasty messages on this list, this one isn't so bad. Really, it's just annoying. Travis Barker has reemerged in the public eye recently because of his whirlwind relationship – and engagement – with Kourtney Kardashian. But, of course, the Blink 182 drummer has been around for decades. And he's been heavily tattooed the whole time.
Although tattoos are a personal choice, this onlooker decided to tell Travis his tattoos are "ridiculous." In fact, the drummer had several done after he was in a serious plane crash.
Fighting Battles All Year
Sadly, some people are more likely to receive abuse than others. Women of color tend to get way more harassment and bullying than other groups, and this is especially true when they're in the limelight. We've seen it happen to superstar Serena Williams, and now it's happening to American tennis star Sloane Stephens.
After her loss at the US open, Sloane was subjected to a torrent of abuse. This horrible DM threatened to damage the star's legs. She shared it on Instagram to spread awareness.
She Truly Is a Demon
Here's another celebrity woman of color that's taken an absolute beating from social media trolls. And let's be honest – from lots of media trolls too. After the star wrote about her miscarriage in an opinion piece, lots of readers decided not to believe her. We can't really wrap our heads around this reaction…
In this utterly bizarre comment, someone claims that Meghan's writing is too descriptive for a sad story. Then, they say she lacks a soul. It seems like she just can't win!
"I Don't Mind the Other One"
Little Mix's Jesy Nelson received so much abuse in her early career that she made a documentary about it. The band came to fame on a talent show. This meant that they were able to attract a huge audience, but also a lot of haters.
Messages about Jesy Nelson have been extremely hateful. The star has been body-shamed since she was just a teenager. We can't imagine the long-term effects of being treated so horribly by total strangers. These people need to get a hobby!
Why Don't You Admit?
On reality series Chrisley Knows Best, viewers follow Georgia real estate tycoon Todd Chrisley and his wealthy family. On spin-off series Growing Up Chrisley, Todd's daughter Savannah and his son Chase stepped into the spotlight. Todd shared these abusive messages that Savannah received.
In response, the Southern star said, "You have some nerve to come at my daughter but after reviewing your profile, I see where the jealousy comes from […] if jabbing her about Botox is the best you got, then you are weak."
"Used to Be So Beautiful"
We've seen some of the abuse that Janelle Evans receives, but what about Cheyenne Floyd? In 2021 the reality star shared messages that attacked her weight just after giving birth. She captioned the post, "When people ask me why I don't share or post as often."
Thankfully, some of Cheyenne's co-stars stepped up to give her some encouragement. Kailyn Lowry wrote, "You look awesome" while Briana DeJesus said, "You look beautiful – Don't let anyone tell you any different!" Preach!
You Need to Calm Down
More reality stars, more online harassment. This time we're checking in on Bravo star Scheana Shay. As we can see from these images, Scheana has received huge amounts of toxic and cruel messages.
These screenshots show someone threatening her unborn baby and taunting her over previous miscarriages. When Scheana decided to respond to one troll, they called her an attention seeker for doing so. As always, they can't win!
Lipstick and High Heels
In case you thought online abuse was just for models, actresses, and reality stars, don't worry – it's also directed at news anchors. Investigative journalist Mina Kimes received this extremely chauvinistic and racist message from a viewer.
Apparently, wearing lipstick makes a person incapable of speaking about football. Who knew? According to this genius, women should stick to what they're "suited for." In such a case, the very serious business of football should be left to the big boys.
"I Don't Want to Be Nasty"
Next up is another former resident of Casa Amor that ended up receiving lots of nasty online comments. Amy Hart starred in the 2019 series of the reality dating show. She posted this screenshot to her Instagram, along with the caption, "Wonder what she'd say if she was being nasty?!?!"
This person saw a picture of someone else, picked out every flaw possible, and then messaged them to tell them. In what world is that reasonable human behavior?
I Feel Compelled to Ask
OK, so there's some backstory to this post. After Taylor Swift eviscerated actor Jake Gyllenhaal on Red (Taylor's Version), Swifties came for him. You see, Jake dated Taylor when she was just a teen, and he didn't exactly treat her well.
Likewise, John Mayer dated Taylor around this time, and her songs reveal that he wasn't a gentleman either. So, after receiving tons of hate messages, John Mayer decided to engage with one angry Swiftie. Eventually, she apologizes, before warning him about the next album drop.
"Absolute Degenerate You Are"
Irish actress Nicola Coughlin has been appearing on our screens more and more. Initially one of the Derry Girls cast, the star then delighted audiences in Bridgerton. Of course, being a woman on-screen means you're likely to attract some trolls.
Plus, Nicola is outspoken on a number of political issues — as you can guess from this post. This screenshot is one of many that Irish actress Nicola Coughlin receives. Here, she's called a "Marxist brain dead clown." That would make a good Twitter bio.
"I'll Get Right on It!"
It really is amazing the things that people will say. While you might hesitate before speaking your mind, other people just blurt it out. Rather than thinking about an opinion and thinking about sharing it, these people just start typing.
Before they know it, their thoughts are out there for all to see. This completely ridiculous person accused Canadian actress Shay Mitchell of not looking at her child while feeding them. Apparently, that makes the star an attention seeker!
Social Media in a Nutshell
This has got to be one of our favorite interactions with a troll. Of course, we don't wish trolling on anyone. But this shows us just how thoughtless the act of trolling is. Here we have a screenshot shared by Bravo king Andy Cohen.
It starts off with someone telling him to be a better person for his son. That's a pretty bold move! When the TV host responds, the person immediately withdraws their criticism. They even apologize! What a spineless troll!
You Seem So Nice
It's absolutely outrageous that multiple women on this list have been trolled after suffering a miscarriage. It goes without saying that this is an extremely emotional time, and that many women grieve their pregnancy. To try and hurt someone during this time is completely beyond us. Who are these people?!
Hilaria Baldwin was trolled like this after her miscarriage. Then, she shared this screenshot with more nasty messages in 2020. In response, she posted "I'm one of the biggest cheerleaders for body positivity and love."
Desensitized in the DMs
Influencer and former Casa Amor resident Molly-Mae Hague has been all over the internet recently. The creative director of Pretty Little Thing got in hot water after making some dubious claims about hustle on a podcast.
Plus, she was pulled into a DM war between her boyfriend, boxer Tommy Fury and his opponent Jake Paul. Drama! The English influencer posted this screenshot online showing the nasty comments left on her socials. This DM called the star shallow, vacuous and useless.
A Man Your Age
We'd love to know whether this commenter would say the same thing to Busy Phillipps' face. We're willing to bet he wouldn't. The actress posted this selfie of her working out while wearing simple black leggings and a crop top.
According to this very charming commenter, the star's "rolls" were showing. How rude! Thankfully, Busy clapped back with a comment of her own. She gave this guy a free grammar lesson, then called him a "bodyshaming loser." We condone this message.
Where Do Y0u Get Off?
By the way, have you noticed how many people on this list are women? It's almost like they get hit with more abuse, bullying, threats, and shaming. It's almost like being a woman in public is threatening to the people that leave these comments.
This screenshot was shared by model Ianthe Rose. She posted a picture of herself in the kitchen, only to be told that she needs to do more squats. How charming! Thankfully she gave them a piece of her mind.
"You Are Not Like This"
As we've said, lots of online trolling is full of homophobia, racism, and chauvinism. These people are pretty lazy when it comes to being hateful. This exchange was between a troll, actress Ashley Benson and her then-girlfriend Cara Delevingne.
Someone left a nasty comment under one of Ashley's posts telling her to choose a "strong handsome religious man" rather than her actual partner. Understandably, this infuriated Cara who stepped in to give them a piece of her mind. We love to see it.
"Like You Hung the Moon…"
Speaking of homophobia, here's another comment from that unfortunate subcategory. These people seem to get extra irritated when they initially perceive somebody as straight and later find out that isn't the case.
Footballer and reality TV star Colton Underwood faced a lot of this reaction after he came out as gay in 2021. Colton was the first lead from The Bachelor to come out as gay. This particular message claims that having seen him with girls on TV "just hurts."
Take Her Down
Astoundingly, there's been a whole social media campaign focused on bullying teen star Millie Bobby Brown. It all started when someone claimed that the actress refused to take a picture with a fan unless they removed their hijab. This story claims that Millie pulled the hijab from the person's head.
From there, this became a meme with multiple people wrongly accusing the star of Islamophobia and homophobia. Hashtag Take Down Millie Bobby Brown share posts full of fake stories. This screenshot shows commenters mocking the actress's body.
"No One Cares"
Unfortunately, we're not surprised that rapper Cardi B faces nasty online messages. The "Bodak Yellow" singer started off on a reality show and quickly rose to the top of her field.
However, many people refuse to see the star as anything other than a former exotic dancer. Cardi shared these messages from a commenter who called her a fake rapper. However, when Cardi told the person to "go on a diet," she was hit with backlash for being fatphobic.
"Only the Weekends"
When it comes to celebrity trolls, Lil Nas X is up there. Seriously, there are multiple articles about his skills when it comes to the trolling arts. The "Montero" singer has lots of clapbacks up his sleeve, especially because he's attacked so much.
Sadly, the gay rapper has also faced homophobia from other celebs. In this exchange, various commenters make homophobic comments about the star. One actually laments that a great person "turned gay." Thankfully, Lil Nas X takes it in his stride.
"I'm Trying to Figure Out"
Former basketball player Dwyane Wade is a pretty great guy. The star is a father of four, including daughter Zaya, who is trans. When Dwyane posted this family snap with wife Gabrielle Union, the trolls came out full force.
This message shows the disgraceful homophobia, transphobia, and racism directed at the celebrity family. In response, the athlete wrote, "As a parent my only goal is that my kids feel that I see them, love them and support them."
Over the Edge
Erika Jayne hasn't exactly had a good year. While she was once flying high with glam teams and music videos, now she's at the center of a huge federal court case. The star has received multiple death threats, including this one that she shared on Instagram.
Here, a commenter threatens to shoot her, on top of other hideous threats. It's hard to understand why people think these sorts of messages are a good idea. Really, what good does it do?
Not an Insult, But…
It's never good news when a message begins with "Don't take this as an insult, but." Let's be serious – that sentence is never going to turn out well. How about if someone could take something as an insult, you just don't say it?
Anyway, reality star Nicole Polizzi (a.k.a. Snooki) was subject to such a comment. How rude! In response, she wrote, "I've been. Three kids destroy your waistline. I'm not trying to be skinny. I'm trying to gain muscle."
Did You Know?
The Kardashian-Jenners face an absolutely huge amount of online harassment. Those ladies seem to rub people up the wrong way just by existing. Out of the whole gang, Khloé is definitely the sibling that's faced the most bullying.
She's been body-shamed for years, and now faces nasty comments about her parenting. In this absurd Instagram comment from 2019, someone accuses the reality star of using her daughter "as an accessory." As she often does, Khloé replied with exactly what she thinks.
Keep Away From the Keyboard
When English singer-songwriter FKA Twigs started dating actor Robert Pattinson, she faced hordes of abuse. In particular, fans of the English actor made nasty racist comments about their relationship. At the time, Twigs called the abuse "deeply horrific."
Robert Pattinson and FKA Twigs dated from 2014 to 2017. The star has since suggested that R Patz's fans view him as a kind of "white Prince Charming." Unfortunately, this type of online abuse towards women of color is all too common.
The Hate of Strangers
Look, when it comes to the ongoing war between the Spears siblings, we're firmly on Team Britney. However, that doesn't mean that we condone the nasty and cruel messages sent to her younger sibling, Jamie Lynn.
The star posted this nasty comment on her social media, along with her own response. She wrote, "I've gotten beyond use to receiving the love and the hate of strangers, since before I even had a choice." We agree that this sort of hate shouldn't be tolerated.
New Message Received
Another star that grew up in the public eye is Kelly Osbourne, daughter of rocker Ozzy and TV personality Sharon. Over the years, Kelly has been bullied for her appearance and body. Sadly, it's still happening.
After Kelly Osbourne posted about her dad's Parkinson's disease diagnosis in 2019, she received hateful messages. This one said it was "great" that her father was dying. In response, she screenshotted the message and posted it with the caption, "…seems like you need some attention???"
A Wake-Up Call
Reality star Abbie Chatfield is serious in her fight against cyberbullying. The star has revealed hundreds of nasty messages sent to her. In fact, she has a special Google drive full of them. Abbie has been body-shamed online, with commenters saying, "Saggy all over. Shed some pounds or wear clothes that actually suit and fit."
Abbie reckons that blocking and deleting trolls doesn't do enough to solve the problem. She's also adamant that she shouldn't be pushed off her socials by bullies.
Don't Feed the Trolls
Horrendously, Lily Allen is another celebrity woman who was attacked online after having a miscarriage. In 2017, the English singer actually took a break from Twitter because of the avalanche of abuse.
We've said it before and we'll say it again — it's never ok to mock someone after a miscarriage! From where we're standing, these commenters should have their accounts disabled immediately.
"Y'All Need to Chill"
And we close our list of nasty DMS with another reality star. This time it's Evan Bass, who shared some of the comments he receives on social media. In this case, someone decided that Evan and his wife Carly Waddell were trying to outdo each other during Easter vacation.
Evan actually had a very thoughtful response to the trolls that attacked him. He said, "It just made me think about empathy and feel so bad for the people that are saying mean things."